Molly Brown
UNRAVELING the MYTH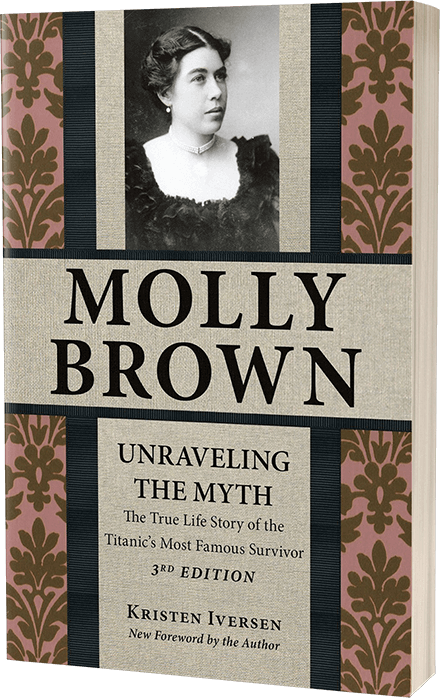 Now in a new 2018 Edition!
When Margaret Tobin Brown arrived in New York City shortly after her perilous night in Titanic's Lifeboat Six, a legend was born. Through magazines, books, a Broadway musical, and a Hollywood movie, she became "The Unsinkable Molly Brown," but in the process her life story was distorted beyond recognition. Even her name was changed–she was never known as Molly during her lifetime. Molly Brown: Unraveling the Myth is the first full-length biography of this American icon, and the story it tells is of a passionate and outspoken crusader for the rights of women, children, mine workers, and others struggling for their voice in the early twentieth century.

Winner of the Colorado Book Award in Biography and the Barbara Sudler Award for Nonfiction. Named one of the top books about Colorado history and the West.
Praise for Molly Brown
"In this extensively researched biography, the first serious work on Brown, Iversen reveals that Brown was a far more fascinating and important figure than her stage or screen portrayals suggest . . . Iversen is particularly adept at placing Brown in the context of her times, making the most of this opportunity to reexamine the Gilded Age and the early 20th century through the lens of feminism and economic and social change."
—Publishers Weekly
"In addition to challenging the formidable myth of Molly Brown, Iversen also offers a piercing analysis of why such a unique, intelligent, and capable woman was stereotyped as a farcical burlesque figure by both the media and genteel society."
—Booklist
"An entertaining, vivid, and intelligent biography of the woman who was 'the nearest thing to royalty Denver ever had.' Written with energy and humor."
—Rikki Ducornet, author of Netsuke and The Fan Maker's Inquisition.
"Kristen Iversen has done a fine job of separating fact from fiction in her biography of the flamboyant, unsinkable 'Molly' Brown. Iversen's enthusiasm for her subject is unmistakable . . . [she] breathes life into the story and makes this western heroine live again in our mind's eye. A must-read for all Titanic buffs as well as anyone interested in life in turn-of-the-century Colorado."
—George Behe, author of Titanic: Safety, Speed, and Sacrifice